Plastic recycling project gets green light

In the last couple of years during the Covid pandemic, it has not been possible for people to travel and Throw A Starfish, but that doesn't mean we have been doing nothing!  This project is about changing the world – not one person at a time – but one plastic bottle, one plastic broken chair or one piece of discarded plastic at a time!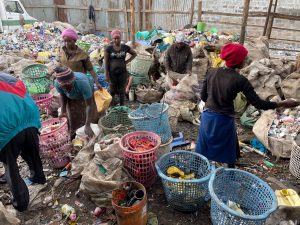 Putting the project in context
Bill Gates wrote this in his August 2020 "Gates Notes": "If you want to understand the kind of damage that climate change will inflict, look at COVID-19 and spread the pain out over a much longer period of time. The loss of life and economic misery caused by this pandemic are on par with what will happen regularly if we do not eliminate the world's carbon emissions."  In other words, if we don't do something to address climate change.
2021 was a year in which we all saw, very clearly, the effects of climate change on the world we live in.
We saw the devastation caused by wildfires in several countries, including Australia and Canada, where they experienced record high temperatures, 49.6C, and whole villages were destroyed.
There was serious flooding in Europe affecting Switzerland, Germany and Belgium causing damage to infrastructure and housing and seriously disrupting normal life.
Switzerland had their snowiest winter for many years and also one of their wettest Julys!
For many years Africa has had a problem with waste plastic.  Huge quantities are consumed (particularly, but not limited to, water bottles) and most of it finds its way into landfill sites or is just dumped on the roadsides.
In September 2021, the COP26 climate change conference took place in Glasgow and recognized the urgent need for action in tackling the problem.  It was stated that this was our final chance to make the changes needed to limit temperature rise to 1.5°C by the end of the century, and avoid catastrophe for the world, where the poorest and most vulnerable people are at greatest risk.  Kenya's environment minister, Keriako Tobiko, told the summit "For Africa, 1.5°C is not a statistic – it is a matter of life and death."
Conferences like this are where governments can meet and make statements and commitments, but for the change to happen we all need to do our bit and that is what this project is all about.
What the project is about
Plastic waste has been a major problem in Africa for years. Without the infrastructure to process the waste, the plastic has swamped these nations, filling waterways, clogging roads and fields, and becoming intricately mixed into animal feed. Plastics don't biodegrade, so the tiny shreds will remain in water, soil, and air for centuries.
Although Kenya has started to address the problem of plastics by outlawing plastic bags, there is still no government-funded waste collection or recycling system and it is one of dozens of developing countries where plastic is causing massive human rights and child labour problems, in addition to environmental devastation.
The unemployment rate among young people in Kenya is high and increased in the first quarter of 2021, compared to the previous quarter. In the age group between 20 and 24, the rate stood at 16.3 percent, up from 15 percent in the fourth quarter of 2020
During the Covid-19 pandemic, when we could not send people overseas, we partnered with B.O.H.I. (Beacon Of Hope International), one of our partners, to tackle some aspects of climate change locally in Kenya.
Our project aims are to:
Set up an efficient, well-run and reproducible plastic recycling facility in Makutano, Kirinyaga county in the Central Province of Kenya;
Recycle plastic and clean up the local environment, making a positive impact on climate change;
Educate people, particularly children and younger people, about the challenges of climate change and motivate them to change their behaviour by reducing, reusing and recycling plastic;
Provide employment for, and empower, unemployed local young people to staff the centre.
Phase 1 involves building a recycling facility at Makutano, near Mount Kenya, capable of recycling 0.5 tonnes of plastic per day. Output from this project will be a mix of granulated PET plastic sold on the international market and granular other types of plastic sold on the local market.
To achieve phase 1, we need to:
Secure a site and equip it to house the project;
Purchase a commercial granulator to transform waste plastic into small saleable pieces;
Purchase a small lorry to collect waste plastic and bring it to the centre;
Run an education program in local schools, with a competition to see which school can collect the cleanest, usable plastic;
Employ local unemployed young people as sorters for the recycling facility and run an empowerment programme for them, expecting that when they are empowered, they will move on and engage in their own income generation activities and be replaced by other unemployed youths.
Sign up local businesses and institutions to allow us to take their plastic waste directly.
The project will make a positive difference by:
Educating children, young people and adults about the impact of climate change and the part they play;
Creating meaningful employment for local people, thus enhancing self-esteem, mental wellbeing, sense of empowerment for being able to look after themselves and their family;
Impacting positively on the environment and creating products out of waste.
Phase 2  will add an extruder to the equipment to enable the production of plastic based building materials eg bricks and tiles.
At the moment Phase 3 is just a dream to replicate this facility in other areas around Mount Kenya.  Having said that, once the inital recycling plant has been setup, it will produce income which in time should facilitate this!
The Kenyan fundraising team have committed to trying to raise 5 million KES (over £30,000) in Kenya and we have committed to raise £10,000 in the UK. If you would like to know more about the project please contact us – we would be very happy to explain more about the prohect and answer your question.
Please could you help by making a donation to the project.

The most cost effective way to do this is to donate via BACS. If you this, it saves the small fee paid to CAF to process your dnation as we do the work!
Please let us know if you would like us to claim gift aid back on your donation.
Thank you so much for your support.